ABL SURSUM
AEG POWER SOLUTIONS
BELUK GMBH
BENNING ELEKTROTECHNIK UND ELEKTRONIK GMBH & CO. KG
CIMCO
DÄTWYLER CABLES GmbH
DEHN + SÖHNE GMBH + CO. KG.
ESA ELEKTROSCHALTANLAGEN GRIMMA GMBH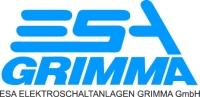 Phone: +49 (3437) 9211-0
Address: Broner Ring 30, D-04668, Grimma, Germany
E-mail: info@esa-grimma.com
Web: http://www.esa-grimma.com
Country: Germany

FEAG SANGERHAUSEN GMBH (FRETIGUNGSCENTER FUER ELEKTRISCHE ANLAGEN SANGERHAUSEN GMBH)
GÜNTHER SPELSBERG GMBH + CO. KG
Phone: +49 (2355) 892-143
Address: Im Gewerbepark 1, D-58579, Schalksmühle, Germany
E-mail: pni@spelsberg.de
Web: http://www.spelsberg.com
Country: Germany
Plastic products as junction boxes, distribution boards, concrete installation systems, enclosures for electrical installation & functional integrity.
HÜBERS VERFAHRENSTECHNIK MASCHINENBAU GMBH

HAARLÄNDER GMBH
HEINRICH GEORG GMBH MASCHINENFABRIK
HEINRICH SCHÜMANN GMBH & CO. KG
HUMMEL ELEKTROTECHNIK GMBH
J. PRÖPSTER GMBH
J. Pröpster is one of the leading manufacturer of lightning protection, earthing and overvoltage protection material. All our developments are in accordance with the requirements of international ...
JEAN MÜLLER GMBH ELEKTROTECHNISCHE FABRIK
JOVYATLAS ELEKTRISCHE UMFORMTECHNIK GMBH
KREMPEL GMBH

Phone: +49 (7042) 915-0
Address: Papierfabrikstrasse 4, D-71665, Vaihingen/Enz, Germany
E-mail: info@krempel-group.com
Web: http://www.krempel-group.com
Country: Germany

LOHMEIER SCHALTSCHRANK-SYSTEME GMBH & CO. KG
The product portfolio includes steel- and polyester housings as well as console systems, terminal boxes, bus enclosures and climate control components.