15 / 06 / 2012
Smart Grid panel discussion held during Elektro'2012
On June 14 the Elektro'2012 exhibition hosted the International Conference on Intellectual Power Supply- Standardization and Practice co-organized by the German Commission for Electrical, Electronic and Information Technologies in DIN and VDE (DKE) and the Russian Power Agency.
A single power area of the future integrates information and communication technologies with power technologies, forming an intellectual system of power supply – Smart Grid. Smart Grid comprises not only electric power transferring, but as well exchanging information on technical condition and characteristics of the integrated objects. Smart Grid creation and development requires common standards.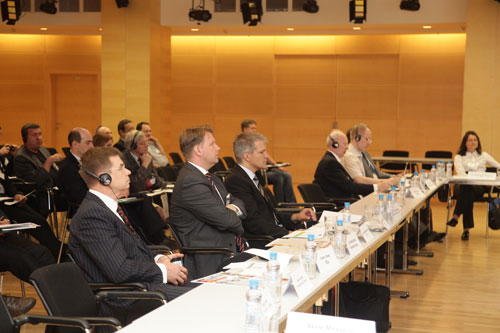 Russia and the European Union member countries, which are the major economic partners, aim at consistent development of power supply systems and creation of Smart Grid common standards.
The conference held as part of the leading exhibition for power engineering Elektro'2012 comprised sharing experience in creation of Smart Grid common standards.
The Conference participants had an opportunity to discuss relevant projects and prospects of Smart Grid standardization development with the world's leading experts at the international and European levels.
In his speech General Director of DKE Thies Bernhard referred in detail on European current practice and approaches to issues of Smart Grid standardization, in particular, on the work performed by DKE in this field. Special attention was drawn to initiatives of the European Commission and the approved mandate on smart networks standardization – Smart Grid standardization M490, which is the key Smart Grid-related document for all European Union countries.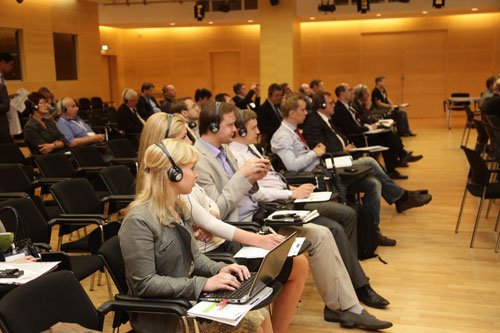 Representatives of the Russian Power Agency, Rosstandard, Skolkovo Fund, VNIIMASH, Non-Commercial Partnership INVEL, Schneider Electric and other Russian companies, which participated in the discussion of Smart Grid, reported on current workings and standards in the field of intellectual power supply in Russia.
Alexey Konev, Director of the Russian Power Agency for Innovation, referring to the Intellectual Power System of Russia Technological Platform, which comprises the work on Smart Grid, noted that at the moment in Russia no prospective vision in relation to the Smart Grid issue had been finally formed.
Standardization provides an opportunity to coordinate interests and technological solutions for all the market participants concerned. The Conference will obviously contribute to approaching of the markets and advancing technologies of the future.

print version