27 / 04 / 2007
The participants have received useful recommendations during the Effective Participation in the Elektro'2007 Exhibition Seminar
The free-of-charge Effective Participation in the Elektro'2007 Exhibition Seminar was successfully held in the Press Hall of the Congress Centre on May 27.
Mr. Yuriy A. Igoshin, the project manager, informed the participants about the course of exhibition development!
How to define the goals of participation in the exhibition?

How to make your booth more attractive for visitors and convenient for your staff?

How to introduce products and services at booth?

What should employees of a participating company know and do?

How to organize a programme of events during the exhibition?

What should be done after the exhibition?

How to fill in documents required for the exhibition?

How to arrange meetings with your target audience in advance?

How to work with visitors?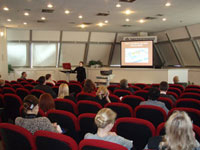 The exhibition organizers and their partners answered these and many other questions.
Every participant received unique materials from designers Reduction of Exhibition Expenses and Tax Risks Connected with Them and How to Participate in Exhibitions in Order to Gain a Profit. 207 Recommendations to Exhibitors.
Expocentre offered additional services, expanded and improved since Elektro'2006.
Comments of the participants:
"It is very important to conduct such seminar before a serious exhibition"

"Expocentre is well known for its high quality services and amiability"

"This useful and cognitive seminar gives an opportunity to properly prepare your participation in the exhibition as well as to make it more efficient"

"It is a splendid initiative. It shows that Expocentre cares about the participants"

"We are impressed by Expocentr"

"The seminar was organized at a high level. Other exhibitions have never had such seminars"
Our main task is to make your visit to our Fairgrounds pleasant. We hope that your business activity at the Elektro'2007 Exhibition will contribute to developing and strengthening of your business ties!
We would like to thank all the participants for their support for our undertakings and wish you successful participation in the exhibition!

print version